Mister Bottle
How to access this FREE membership.

You can access this level of membership directly with your misterbottle purchases. Once you reach a minimum monthly billing: €1600/month we will send you our welcome pack directly and you will begin to enjoy all the advantages of Silver membership.

In order to maintain your monthly billing information, you need to create an account here. Once you have your account you will be able to see how many orders you have made and the total invoiced.

If you already have an account and you have not yet reached the minimum billing, you can also access directly by paying the monthly payment in the purchase button below

25% discount for total annual payment.

15% discount for full quarterly payment.
Regular price
Sale price
€90,00
Unit price
per
Sale
Sold out
Gold Membership Advantages - Level 2

What can you do with this membership?

YOU ACCESS ALL THE BENEFITS OF LEVEL 1 MEMBERSHIP - SILVER (see level 1 benefits)

+

LEVEL 2 MEMBERSHIP BENEFITS

Welcome pack level 2
Gold level membership gives you access to all collaborators in 2 cities to choose from.
+ 1 temporary pass for a month in another city of your choice.

Exclusive discount on Mister Bottle products.
Priority access by VIP area to the best clubs in the chosen cities. SKIP THE LINE.(For you and 2 companions)
Reservation of discounted bottles at the club/restaurant.
Advance tickets to exclusive events of collaborators and MisterBottle.
Reservations with advantages in collaborating hotels.
Online sommelier, they will always be willing to give you a hand to choose wines with which to always hit the mark. All of them are the ones that make our passion for wine transmitted and spread.
WhatsApp personal online assistance.

As a member you will receive our calendar of events: Tasting courses, Workshops, Showroom, Fairs, Trips to Wineries.

*You can cancel your membership at any time.
Choose your city

- The Gold level membership gives you access to all collaborators in 2 cities, + 1 temporary pass for a month in another city of your choice.

Enjoy and benefit from exclusive advantages in the best collaborating establishments in the city.

Coming soon: (MIAMI - TULUM)
The Mr.Bottle Club membership format is a format associated with the loyalty of each client. From the MrBottle team, we reward our best clients, through exclusive advantages by rank, in services associated with the business itself and the deals that we generate together with our collaborators.
We opt for membership levels with a retroactive character for the client, through a minimum monthly billing range in our boutique, giving the option of admission to the different types of membership that we offer in an organic way and thus rewarding loyalty to MrB.
We also offer a form of direct membership opening for newly arrived clients, who feel the need to come and learn about all our services. Through a recurring payment fee, and by analyzing the profile of each customer, from their taste in music to their favorite drink, cocktail or dish.
This payment format will admit the client as a member of the club with a limited time conditioned to his monthly payment, with the possibility at any time to cancel his subscription and therefore its benefits.
Share this product
Everything that includes memberships
View full details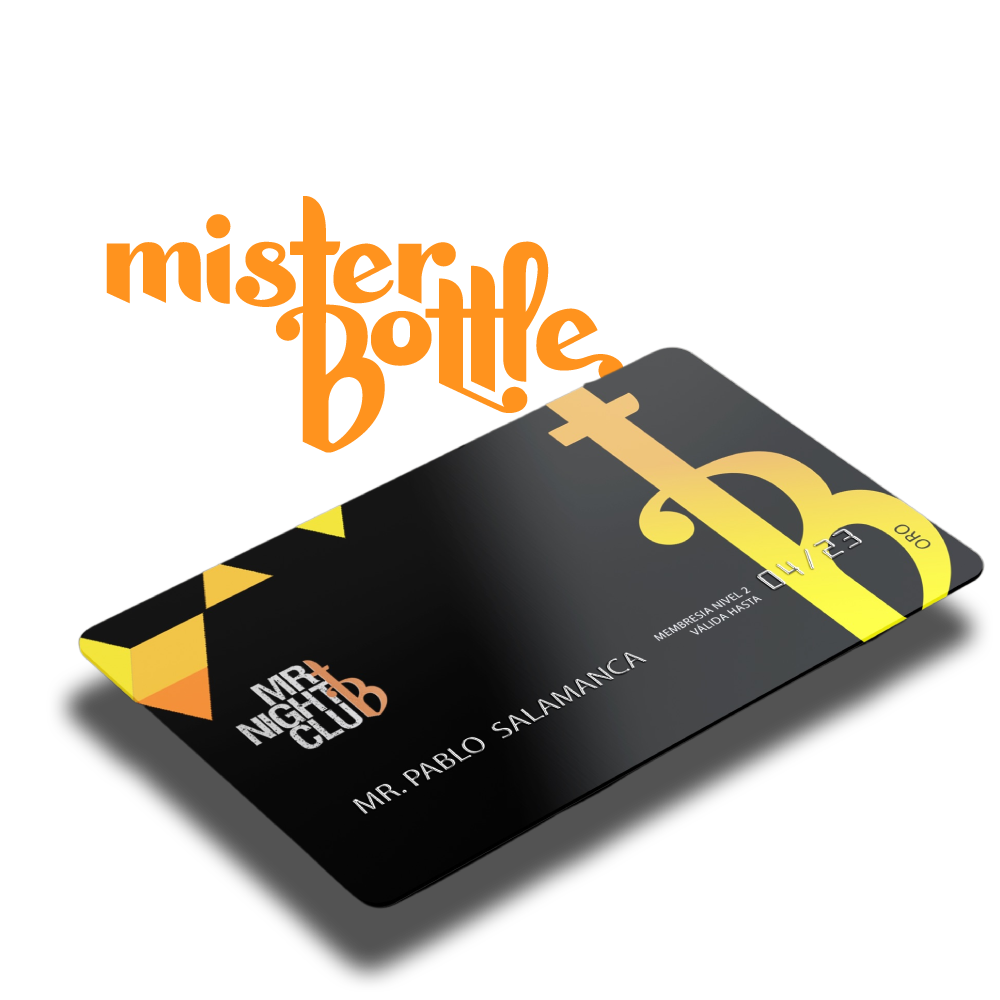 MRB NIGHT CLUB
Access the inaccessible.
Our most prestigious place, only for VIP members.
Mrb Night Club, was born from the need to go one step further in our Mister Bottle customer experience.
Our private clients demand places to share gastronomic experiences of the highest level, as well as access and recommendations to the most prestigious clubs in each city where they can enjoy premium nightlife with friends. Our commitment to our customers is our main value, at Mr.Bottle we care for and help our customers in a personalized way, taking into account the needs of each one. In our private events we face each other, chat and create synergies to maintain a closer relationship .
That is why these small services arise where Mr.Bottle has the trust of large nightlife and restaurant companies . Since we are also their distributors in many cases.
This year 2023, we wanted to capture all this concierge service that we often gave our clients, sporadically and occasionally. To take it to the next level, we have created parameters and solid relationships with each of our partners, allowing our clients to access the inaccessible in a personal way and with the confidence of a team that works to make their lives easier. and don't waste time.
We tailor your leisure, restaurant, and shopping needs and we provide you with travel experiences, exclusive events hand in hand with our partners.
All with maximum privacy for you.
Benefits for being a member.
- Priority access to the best clubs in Spain
- Immediate reservations in the best restaurants
- Events and private tastings
- Networking with club members
- Advertising through our different channels
- Exclusive products with access only for members
- Exclusive advice with our sommelier
- Warehouse design and advice
- Tailor-made trips and private events
- Advance purchases of wines and champagne
- Private auctions.
If you want to be a member of our club, send us your information through this form and we will inform you personally. ( Subject/Message : I want to be a member)